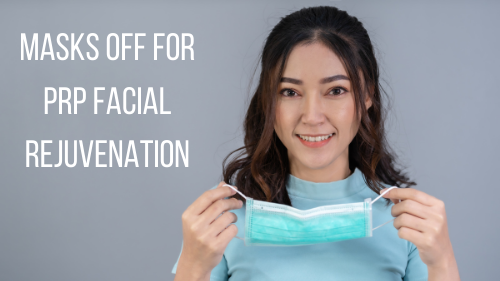 Wearing a mask for extended periods may cause excessive dryness and increase skin wrinkles and pores!
What is a PRP Facial Rejuvenation?
PRP Facial Rejuvenation also known as the Vampire Facial combines micro-needling (also known as collagen-induction therapy) with topical application of platelet-rich plasma (PRP) derived from your own blood.
First, micro-needling creates tiny pinpricks in your skin, triggering a wound-healing response that stimulates your skin's natural collagen and elastin production. Then, to further boost skin cell regeneration, the growth-factor-packed PRP penetrates the skin through the microchannels created via micro-needling.
The PRP from your blood platelets contributes to essential growth functions and healing. Over time, the PRP amplifies collagen production, increases cell turnover, and spurs growth of new blood vessels creating an overall improvement to skin texture and tone.
PRP Facial Rejuvenation can reduce scars (including acne scars), correct hyperpigmentation, tighten and firm lax skin, smooth fine lines, minimize the appearance of large pores, and improves moisture retention. You can see increased radiance within days of your treatment, and benefits increase over four to six weeks as the production of new collagen increases.
Studies show that micro-needling and enhanced PRP treatments like the PRP Rejuvenation can improve everything from sun damage, to acne scars and skin aging.
Treatments are over quickly 45-60 minutes! Recover Time 24-48 hours!
Introductory Special Pricing! $450 / treatment (regular $499)
Series of 3 treatments $1,200 (regular $1,350)
Most patient will see the best results after 3 treatments, a month apart,
although one treatment can be adequate for some patients.
A limited number of appointments are available
Schedule today (770) 591-5264